Push-To-Talk (PTT) Technology
We live in an always on, instantly connected world. Just text, email, IM, or direct message to communicate with anyone, anywhere.
However, for many enterprise users, it's simply not optimal to put their work on hold, take out a smartphone, and tap away. Workers in highly mobile, hands-on industries such as construction, transportation, private security, field services, and similar occupations, need a purpose-built device that includes just the communication tools they want, without the distractions of modern smart devices. They want instant voice communication, anywhere the job takes them, without dialing a number and waiting for a call to be routed. They don't want the distractions of texting, social media, and gaming applications to get in the way of the job.
According to a recent survey from staffing firm OfficeTeam, the average office employee spends 56 minutes per day using their cell phone at work for non-work activity. For younger workers, ages 18 to 34, that number jumps to 70 minutes wasted on mobile devices, mostly on personal email and social media. This wasted time is a productivity killer for office employees. For those in hands-on industries, it's also a dangerous safety hazard.
Fortunately, there is a technology option that bypasses these distractions to let workers focus on the job – Push-to-Talk (PTT) technology. PTT is a one-to-many or one-to-one mobile voice communication technology that lets users talk instantly, without the dialing, routing, ringing, and answering steps of a regular phone call.
Unified Communications Between Your Devices And Networks
Connect your disparate networks to WAVE's PTT platform, so you can communicate between smartphones, radios, computers or landlines.
Turn Your Mobile Phone into a Multi-Channel PTT Handset
Push-To-Talk (PTT) is no longer a technology-driven term, it is an enterprise-wide capability. It enables teams to communicate instantly, reliably and productively together to improve business and elevate service. Today, broadband networks and devices are so ubiquitous that any worker can be connected to any device in their pocket or on their desk with real-time communications through PTT. With interoperable broadband PTT, everyone can become part of the conversation without concern about which device or network they use.
The revolution is being push-to-talked about. Today, virtually everyone can benefit from push-to-talk (PTT) across their organization. PTT brings the immediacy and spontaneity to connect different personnel together seamlessly. Regardless of their location, the network they're on and the device they use, PTT makes everyone part of the conversation for truly enterprise-wide communications.
PTT affords unlimited opportunities for organizations of every size – from the small police department in a rural community to the large, distributed multinational enterprise that needs supply chain efficiencies across the board. PTT is the pathway that unifies communications and facilitates collaboration for greater operational efficiency. Just as texting and tweets are the conduit for much of social media, PTT is transforming the way enterprises use voice.
Leverage Broadband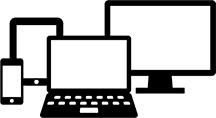 Bring secure push-to-talk to the smart devices your team is already using.
Integrate Networks
Connect radio systems together for better real-time coordination and response.
Use Any Device
Freely communicate on the device that suits you best, from virtually any location.
Team Communications
Only Motorola Solutions can take your communications further. Link WAVE broadband devices to your trusted radio system so each member of your team can use the device right for their responsibility and workplace.
Learn more about Team Communications
WAVE Infrastructure
WAVE 5000
WAVE 5000 provides a scalable broadband PTT solution for small to large enterprises. WAVE 5000 is ideal for customers who are looking for an enterprise-grade PTT solution to support their daily operations. Features such as group calls, private calls, messaging and location provide best-in-class enterprise PTT communications. With WAVE 5000 you can experience game-changing functionality that lets you build and operate secure PTT solutions for today's most demanding communications environments.
Learn More About WAVE 5000 (link to follow)
WAVE OnCloud
WAVE OnCloud is a broadband push-to-talk subscription service from Motorola Solutions that uses the cloud to extend two-way radio communication to phones, tablets and PCs, to help business and enterprise organizations get more done faster. WAVE OnCloud eliminates the barriers between devices, networks and locations, and lets everyone be part of the conversation.
Learn More About WAVE OnCloud (link to follow)
WAVE Applications
WAVE™ Mobile Communicator
Transform any smartphone into a secure, multi-channel push-to-talk device with the WAVE Mobile Communicator to extend your communications and enable better collaboration among teams.
WAVE™ Dispatch
Simplify day-to-day operations with WAVE™ Dispatch. Login from any Internet connection and get access to all the communication tools you need to manage your resources and coordinate an effective operation. Regardless of location, with WAVE Dispatch you're just a click away.
Learn More About WAVE Applications (link to follow)
WAVE Industry Solutions
WAVE makes it possible for your teams in the field or in the office to communicate and collaborate effectively through voice and data – securely, reliably and in real-time – regardless of network, carrier or device.
Learn how you can connect staff and improve productivity with Motorola's WAVE solutions for Hospitality, Manufacturing, Public Safety, Transportation & Logistics, and Utilities.
Learn How Customers are using WAVE (link to follow)