Motorola Team Communications for High-Performing Organizations
Teams are more dispersed than ever. The variety of users and user equipment in the workplace continues to multiply. Businesses want a way to make communication easier and faster, while leveraging the resources they already have in place.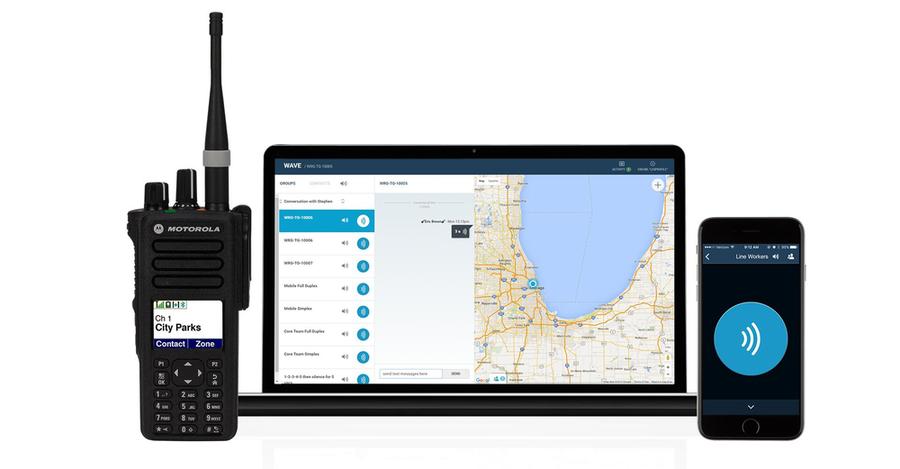 Unified Workgroup Communications Brief Featuring Research By Gartner
Today, the power of unified communications is expanding beyond the traditional office space and into the industrial areas where the revenue generation for many enterprises actually takes place.
These industrial employees – the production line worker, the hotel housekeeping and countless others – use different devices on different networks and face far different challenges communicating than office workers. Their preferred collaboration methods – radio, telephone, and even pager to resolve work tickets from dispatch or alarms from equipment – are focused on issue prevention or resolution, and optimized for their workflow and environment.
Examine how Unified Workgroup Communications enable workers to connect instantly, without boundaries and with added intelligence. Plus, discover how some emerging technologies on Gartner's Hype Cycle for Unified Communications and Collaboration apply in the Unified Workgroup Communications space.
Read Motorola Solutions new complimentary brief "A Workgroup-Centered Perspective on Unified Communications" featuring research from analyst firm Gartner.
Industry Insights
Energy
What if your staff could communicate with each other instantly and securely through push-to-talk (PTT) communications between smartphones, laptops, tablets, radios, landlines, or other connected devices? What if it did not matter where they were in the world, or to what network – LTE, LMR, LAN, Wi-Fi - they were connected? What if they were able to use a rich application ecosystem and the Industrial Internet of Things (IIoT) to extract valuable intelligence from the flood of data, and then share that information instantly with the team members who most need to know? This capability exists today. Take the first step toward a safer, more successful, and more efficient business by taking your communications further with Team Communications from Motorola Solutions.
Team Communications for Energy 
Hospitality
Team Communications for hospitality offers a flexible platform so your teams stay connected and informed no matter their device or network. They can communicate instantly and securely via push-to-talk (PTT) between smartphones, radios, computers, landlines or any other devices. You can also augment your communications system with a rich application ecosystem for additional operational context and intelligence. Now you can select the right device for each worker, confident they can communicate and collaborate with each other. Visiting event teams and contractors who bring their own devices can also become part of the Team Communications system, ensuring guests receive great service from staff who have instant access to information, on the spot. The Team Communications platform unifies your teams and helps to send guest satisfaction scores soaring.
Team Communications for Hospitality 
Manufacturing
Smart manufacturers can seize the opportunities and hurdle the challenges of the modern marketplace with Team Communications. Your personnel can connect instantly – on any device, on any network, anywhere – utilizing the same radio talkgroups as your radio users. A wide variety of applications from the industry's largest two-way radio developer network help keep employees safe, boost efficiency, and minimize downtime. Keep your team engaged and aware, sharing ideas, solving problems, and building the future of your business with Motorola Solutions Team Communications.
Team Communications for Manufacturing
Private Security 
Companies don't hire private security firms without a reason. Even though the stated goal may be to secure a building or protect property, underlying that is the expectation that the customer's personnel and your team go home to their families at the end of the day. For those situations where seconds can mean the difference between triumph and tragedy, nothing is faster than push-to-talk.
With Motorola Team Communications solutions, two-way radios, smartphones, laptops, tablets, and even landline phones can be connected within a single radio talkgroup. Share critical information with the team on whatever device they prefer, on any available network, at any time.
Team Communications for Private Security 
Transportation & Logistics
Every extra delivery you make in a working day sharpens your competitive edge. Consignments arrive at exactly the right moment and service becomes a competitive advantage. Smart analytics and closer collaboration – person-to-person, machine-to-machine – allow real-time inventory management and process automation. Operations-critical data applications, such as work order ticket management, track orders, help your managers confirm deliveries and keep tabs on workflows to pinpoint problems before they place delivery at risk. Deadlines can be met consistently and errors can be eliminated making fleets can be more reliable.
Team Communications for Transportation & Logistics
Connect Without Boundaries
Move Beyond Network, Device, And Geographic Boundaries.
How do you make communicating as easy as if your team was standing next to each other?
Whether you're in the office, on-site, or at a conference hundreds of miles away, with Motorola's Team Communications solution your team is always just a "push" away.
Your workers can use the devices they already own – whether it's smartphones, radios, tablets, computers or telephones – or you can equip them with ones that are right for their responsibilities and workplace. They'll have access to real-time information and the colleagues they need to get the job done right. And you leverage the devices and infrastructure you already have in place.
Maintain Your Edge with Team Communications 
Keep clients and employees safer by being constantly connected and instantly available.
Top Six Priorities For Unified Team Communications
The 2016 Motorola Commercial Survey offers revealing insights into unified communication trends in a variety of industries across the U.S. and Canada. These ranged from manufacturing to utilities to K-12 education. Conducted in May 2016, the survey represents the view of more than 1,200 professionals, the largest single group of whom currently use two-way radios.
One Platform. One Provider. All Your Communications Equipment.
Radio
Use radios for workers who need the loudest, clearest audio on a purpose-built device that can handle the worst conditions.

Smartphones
Use WAVE's iOS or Android app for instant connectivity to teams and individuals from any location.

Telephones
Add telephony integration with WAVE to add PTT capabilities to the infrastructure you already have in place.

Computers
Use dispatch applications to talk with team members, create and tear down patches between channels and manage user access from wherever your laptop goes.

Internet of Things
Augment your communications with sensors and data designed to simplify your workflows and increase intelligence.
Use Intelligence To Drive Productivity
Use data and applications to simplify your communications and workflows.
Data applications build the features and capabilities of modern two-way radio into a business support platform. They are the glue that can synchronize and pull your operation together. Increase awareness with indoor location tracking and alarm management. Stay focused with wireline dispatching and work order ticketing. And ensure safety with man down and lone worker functionality. Integrate new and current applications within the Motorola ecosystem so your workers can focus less on systems and devices and more on the job in front of them.
Motorola's intelligence ecosystem is designed around the way you work to increase your productivity, efficiency and safety.
Use GPS tracking for greater visibility and accountability.
Work order ticket integration for greater workplace efficiency.
Wireline dispatching provides greater visibility of team members and enhanced security.
Data - The Real Game Changer
Digital technology has transformed the two-way radio. Voice communications are clearer and crisper, with longer range and better efficiency. But the real revolution is the addition of data capabilities. Your radio system can now deliver operations-critical messaging and control applications, helping you improve workplace management, safety and efficiency.
Learn More about How Your Operation Can Benefit from Data on a Two-Way Radio System
Motorola Solutions Team Communications
Any Team Member
Executives, Dispatch, Drivers, GM, IT Managers, Maintenance, Plant Managers, Production, Security, Staff, and more.
Any Network
Carrier Network, LAN, Land Mobile Radio, Telephony, and Wi-Fi.
Any Device
Computers, Radios, Smartphones, Tablets, and Telephones.
Any Application
Alarms and Telemetry, Asset Management, Dispatch Solutions, Fleet Management, GPS Tracking, WAVE™ PTT, and Work Order Ticket Management.
Better Together – The Motorola Ecosystem
Created In Unison

With Motorola Solutions, you get a suite of products designed and architected to work together, all from a single vendor. From day 1 to day 1,000, your products work seamlessly together with updates made in unison, so you never have to worry about disruptions to your communications.

End-To-End Security

Stay secure from your LMR core to the broadband edge with a suite of products all designed to protect your business-sensitive information.

Application and Developer Ecosystem

Take advantage of the largest portfolio of applications for digital two-way radio an extensive partner ecosystem dedicated to providing and integrating end-to-end Industrial IoT solutions.
From Testing To Deployment
Motorola Solutions ensures our communications equipment works perfectly together, minimizing communication disruptions and maximizing productivity.
Application and Developer Ecosystem
Take advantage of the largest portfolio of applications for digital two-way radio an extensive partner ecosystem dedicated to providing and integrating end-to-end Industrial IoT solutions.
Many PTT providers offer radio integration with broadband networks; however, most do not offer the necessary security features to keep your communications private. 
WAVE's wireline integration with MOTOTRBO allows you to apply robust encryption and secure key management throughout your entire communications portfolio. Motorola Solutions offers the only push-to-talk solution that allows for secure talkgroups across radio and broadband communications.
Products
Select the right device for each team member.
MOTOTRBO Digital Radios
From the front desk to the factory dock, moving across campus or around the country, MOTOTRBO™ radios are connecting more people effortlessly and efficiently wherever they work. Information is instantaneous. Decision-making becomes easier. Safety gets stronger. Productivity increases. Service improves and customers are more satisfied.
Learn more about MOTOTRBO Digital Radios (link to follow)
APX P25 LMR RADIOS
Mission-critical radio products, purpose-built for first responders and organizations who cannot compromise on their communications. Certified to the APCO Project 25 (P25) digital two-way radio standard, and with single, multi- and all-band capability, APX radios are guaranteed to interoperate with other agencies. From affordable single-band utility radios to ultra-rugged all-band firefighter two-way radios, APX offers it.
Learn more about APX P25 Radios (link to follow)
WAVE Broadband Push-to-Talk Platform
Push-to-talk between all of your devices and networks. WAVE connects your disparate networks such as radio, cellular, Wi-Fi, telephony and more so you can communicate between them. Whether on a smartphone, a radio, a computer or any other communications device, your personnel can connect instantly via PTT.
Learn more about WAVE Broadband Push-to-Talk (link to follow)
Dispatch Consoles
Have the peace of mind that your dispatchers have the best tools available to get the job done. Whether large or small, Motorola Dispatch Solutions provide reliable connectivity, robust functionality and affordable management needed to ensure everyone gets home safe or power is restored.
Learn more about Dispatch Consoles
Fast, Reliable Communications
Push. Talk. It's That Simple.
When production stops
When the power goes out
When a worker needs help
Every moment matters. You need fast and reliable communications between devices and across networks.
See How Team Communications Can Work For You
Interested in learning more about Motorola Solutions Team Communications offerings? Contact us to learn how we can help you unify your communications, to get a free demo or to buy now.