Solutions Channel Partner
Motorola Solutions is the leading provider of mission critical two-way radio communications to commercial businesses and public safety agencies worldwide.
Click here to find out more about our Motorola Solutions products.
---
Service Elite Specialist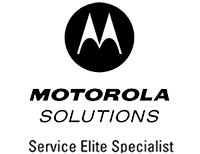 We are an authorized Motorola Service Center (Now Service Elite Specialist). We have our own factory trained staff of experienced service professionals who are totally committed to keeping your system performing at peak efficiency. We utilize the latest test equipment and maintains an extensive inventory of factory original parts.
The Service Elite Specialist is the highest level of service relationship. It represents the greatest level of Motorola/Servicer agreement and interdependence. Motorola Servicers who attain this level have demonstrated consistent capabilities in performance, personnel and commitment to Motorola products and services.
---
Certified Service Center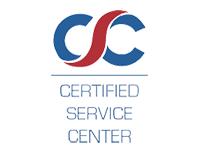 The Certified Service Center (CSC) program is designed as a tool to help consumers find quality service centers, to help electronics and appliance manufacturers select service centers for in-warranty repairs, and to provide a standard for professional service firms that desire to offer outstanding customer service.
Showing our customers that we mean business!
Becoming a Certified Service Center demonstrates to our customers, and the whole industry, that customer service and satisfaction are paramount to our service center. It let your customers know that they are guaranteed high quality. Our service deserves to be recognized, so take your business one step beyond the rest.
Certified Service Center (CSC) status places our business in the elite network of service centers that consumers turn to for quality assurance. Our business will be listed in the CSC directory - to be distributed to industry and consumers, as well as being listed on Consortium Members web sites.
What's Involved?
To attain Certified Service Center status, a service center must comply with specified requirements determined by representatives of all facets of the service industry.
Certification Requirements:
Facility Service Capability
Code of Conduct
Appropriate Test Equipment and Tools
Customer Service and Warranty Policy
Management Skills
Technician Certifications
Licensing and Insurance
Professional Appearance